While Koh Phangan was our final destination, since we got to the ferry at 7 pm, it was impossible to go that far, instead we would have to spend one night in Samui. So when the ferry docked at 8:30 pm we strapped on our packs and treaded down the street into uncharted territory. With our lonely planet guidebook in hand, we stopped at the Win Hotel. This place seemed like the Motel 6 equivalent but we were happy with the 450 baht room charge ($14.50 for the night!).
The next morning (Thursday), we recharged our batteries with a nice breakfast – Jill is really loving the Thai staple breakfast of plain yogurt, fresh fruit and muesli. At 11am we boarded the ferry for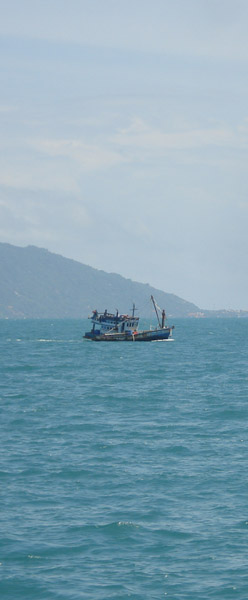 Koh Phangnan. This was a people only ferry and traveled faster than our "car and people ferry" the night before. Our ferry ride from the night before was also at night time, so a nice daytime ride was absolutely beautiful to see the beaches, bungalows, and vast jungles of the Samui interior, thus-far untouched by development.
To the north, the island of Phangnan was hazy in the distance about 20 km away. As we drew closer it appeared very much the same as Samui – a mountainous island, that once rose out of the pacific because of the work of a now long dormant volcano. These lush green mountains were bordered on every side by a collection of boulders and stretched of tan coloured beaches.
At Phangnan's port of Thong Sala, we were inundated with cab drivers all trying to take us wherever we were going. Our problem once again was that we didn't know where exactly we were going. They seemed to understand this about many of the travelers getting off the boat, so there were people approaching us with photo albums and brochures for various resorts. Our mindset, before arriving in Phangnan was that we had several criteria: beach front, a clean and comfortable room, an A/C unit (cause we weren't totally roughing it), and low price. We realized that in most cases one of these would have to be sacrificed and in the case of our first choice – the "happy beach resort" the pictures that the lady at the dock showed us it looked like it met all of our conditions so we agreed to go. When we got to the 'resort' the appearance was far from 'happy'. On the walk in there was garbage around, a stagnant swamp we had to cross over, and the room they were going to give us was gross and to add insult to injury didn't even face the beach. So it was thanks but no thanks and on to the next. Although the hotel cost $18 a night, we were worried that the emotional toll was far too great to endure.
Once again walking into uncharted territory we headed north along the western coast of the island in search of one of the hotels that Chris had underlined in the lonely planet – that hotel was the Haad Son Resort. This was already a much nicer place, they had rooms for $35 a night with a seaview balcony set on a hill and by this point it was clean and had air con. so we didn't really care and we took it for at least 1 night.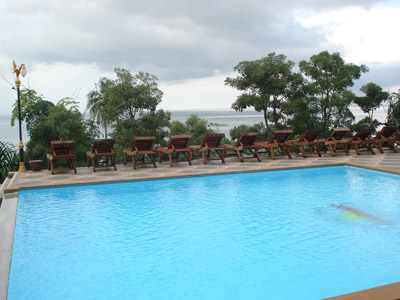 After unpacking and taking a quick dip in the pool, we realized that the hotel was going through a fair bit of renovations, in preparation for the high season which is said to begin in December. Further proof that this was the low season was that in this resort of about 50 bungalows, we were one of 2 groups of guests. We rented a scooter and headed up the north coast to see if there were any other places that were either better or cheaper or both!
While the pool (right) and beach (below) at Haad Son Resort were nice, we felt like we were part of the construction crew.

Equipped with a map of the island roads (which proved a little useless if you weren't on the main road), and the lonely planet list of recommended resorts we scooted down the road. After visiting about 7 places – some good, some bad – we found one that we really liked at the no
rthern tip of the island. It is called Phangnan Utopia. Their resort on top of a beach cliff featured a nice view from our balcony (left), nice pool, nice rooms and best of all a 'stay 4 nights pay for 3' deal on their rooms which made the final price come to $31 so we were pretty happy. So starting today night we began our weekend stay at Utopia.
Another thing we noticed in our visits to many resorts was that since it was low season not only were the prices low, but we could get the premier rooms at most resorts for under $75 and in many cases much less. So our plan is to continue checking around an plan out our course for our remaining 2 weeks on Koh Phangnan.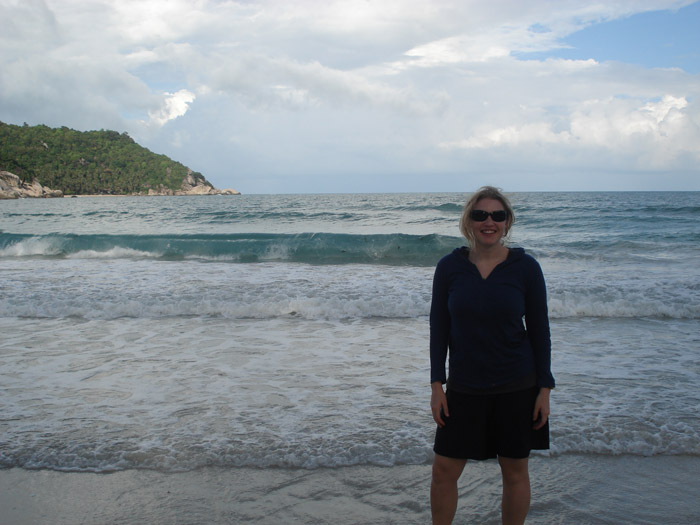 As we sit here on our balcony in Utopia overlooking the beautiful sea and rock cliffs, we're pretty sure this is going to be an excellent 2 weeks!