So we decided to slug it out for an hour in the lobby watching the various drunken party boys, with Thai girls in tow, walk up to their rooms. It was at that point… at 4:26 am, when we were taking stock of our belongings, that Chris realized that our camera was gone! After retracing our steps, we realized that the only time it could have gone missing was if it had slipped out of his pocket on the plane and since we were so tired when we disembarked, neither of us bothered to do the double-check to see if we had everything.
After feeling sick about our loss (thankfully the day before Chris had cleared the old pics off the memory card), but the prospect of having to buy a new camera, we just decided to sleep on it and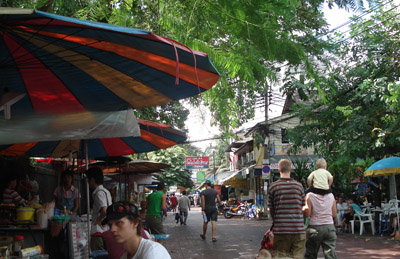 perhaps the situation would figure itself out. The next morning, we decided that we couldn't give up that easily – after making some calls, we were able to track it down at the airport - it had been found! So we were delighted. We took an hour and a half out of our day to go back to airport to pick it up. The trip was not a total waste of time however, besides picking up our camera - we booked cheep flights south leaving tomorrow at 3:00 pm (not am this time!) for Surat Thani, where we will then catch a ferry to the island of Koh Phangan. We haven't decided yet whether we will stay the night in Surat or take the night ferry over to the island, but we will keep you posted.
We walked around this afternoon visiting the various markets around Khoa San Road (above) looking for some cheep beach clothes and souvenirs. After our 2.5 weeks down south, we plan on coming back to this area so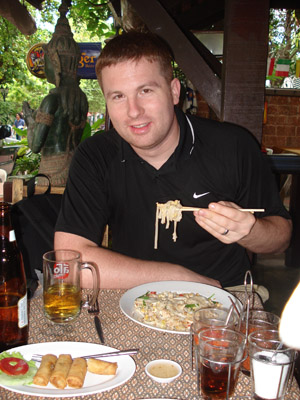 our souvenir shopping was merely just a fact finding mission since we really have no extra room to be carrying anything.
We had Pad Thai (right) for lunch and both declared that we could easily eat that for the next 3 weeks and be pretty happy - it was delicious - that was until we bought a falafel on the street - another delicious find. So much for the weight loss challenge, I guess we will both have to start one when we get home.
In the evening we took a cab to the Bangkok night bazaar. This is one of the biggest markets in the city with plenty of stuff to buy from imitation bags and clothes, to handmade jewelry, to beautiful Thai art. We spent about 2 hours walking around – clutching our wallets tightly. Not because of pickpockets (which apparently are a concern) but because we were worried about spending too much ourselves, because there was some really cool (and cheap) stuff.
So as we pack it in for a night of sleep, we will sign off until tomorrow, when we head down south.