The section of the Wall that we visited was about 70 km north of Beijing at Mu Tian Yu. The Wall at Mu Tian Yu is a 3 km restored section featuring 25 beacon towers, watch towers and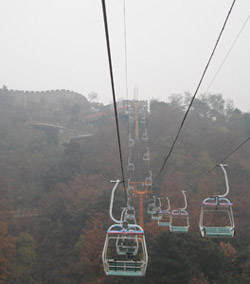 lodging houses. This section of the Wall is regarded to be constructed with the highest quality, and it is also considered much less touristy than the section of wall at the more popular Wall location at Ba Da Ling.
We took a bus for about 1 hour, and then we hired a mini bus to take us the rest of the way. As we were driving, we were worried about the smog, and how it would affect the views and our lungs. When we arrived, we decided to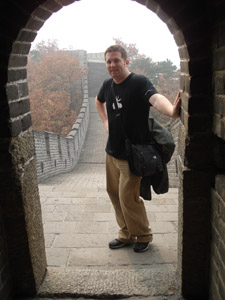 spend our energy actually walking on the wall, instead of hiking up the steep slope to get there. We decided our best course of action was to take the lift (basically a ski lift - left) and then ride a slide down.
When we arrived at the end of the lift, were were there. We walked up a short flight of stairs and we were on the wall. It is really difficult to get an appreciation for this engineering feat from pictures. The wall hugs the shape of the vast mountain range that it is built on, as a result it makes for quite a demanding climb. As we walked, we quickly found the appropriate balance between looking around at the beautiful scenery, and looking at the angle that our next step was going to take - so that we didn't take a tumble.
We walked for about 1 hour before taking a short break and then headed back to where we started. The smog we were worried about actually made our pictures look eerie and foggy (below). We were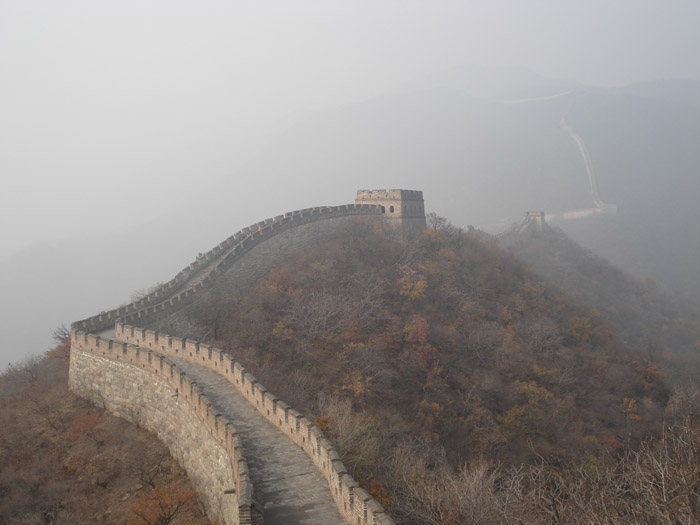 also really happy that many of the leaves were changing colours creating a beautiful canvas of greens, oranges, browns and yellows surrounding the ribbon of Wall that cut it's way though the mountainside. As many of our pictures show, we were virtually alone on the wall (below), which made the experience really neat. As Jill was remembering from her Rockway trip a decade ago, the wall was full of people, will little to no opportunity to take a private picture.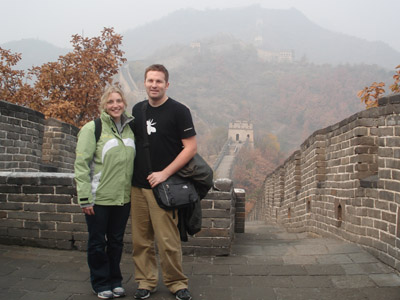 Now don't forget, once again - just like the previous day, even though many Chinese people were coming to the Great Wall, attraction #1 was still a picture with the beautiful Jillian - and she agreed to several of those during our hike.
After 2.5 hours of exhilarating hiking, we were ready to head down to our mini bus and back to Beijing. We had one more adventure in store for us when we rode the slides down the hill - which was really fun!
When we arrived back at Terry and Kate's, their Ah-ee had made another wonderful supper for us and Jill was in her element, loving the authentic Chinese food. After supper they took us to their favourite massage place to reward our bodies from 2 straight days of non-stop walking with a Chinese full body 1-hour massage.