Sunday was more of the same, a relaxing morning, followed by a trip to Loe-wu station. Loe-wu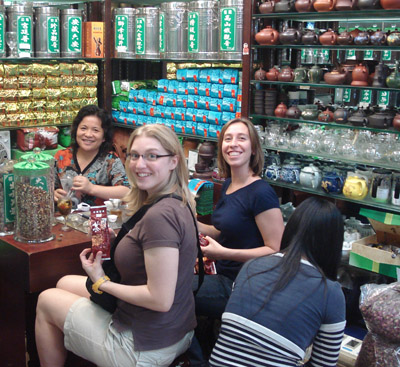 station used to be the only entry to the Hong Kong territories from China but since Hong Kong has been reunited several other crossings are being built. Loe-wu is still a place with some crazy markets, for sales of knock off merchandize such as purses, glasses, electronics, and of course DVDs.
Chris and Nick wandered around the market checking out the deals, while Ange and Jill found a tea shop (left) and sampled some of their products for half an hour or so. After purchasing several selections of tea, we had a nice supper at a Western restaurant that featured 2-1 drinks – too good to refuse.
Once again, on our way home that evening we stopped for some pampering. This time it was at the hair salon. While Chris, Ange and Lindsay (Ange's sister also teaching here) got a wash and cut, Nick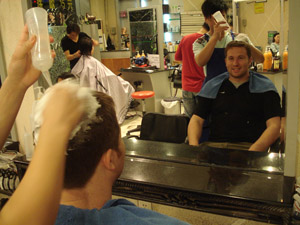 and Jill got their hair washed. All washes took a good 25 minutes and included a back and arm massage followed by a heavenly head massage. All told, the cut and wash cost a whopping $4 while the 30 minute wash treatment alone cost $2, another Chinese deal!
On Monday we were guests at the Victoria Kindergarten. Nick and Ange have been teaching at this school for over 2 years now and it was great to see the place that we have all heard so much about. In comparison to our time spent in Korea teaching middle school-aged kids and also our visit to Terry and Kate's Montessori school in Beijing, this was yet another unique experience of English teaching in Asia. Their school is for students 18 months – 6 years, and it runs all day from 8:30 – 4:30.
Nick is ready to lead the students in a song while Ange get's her groove on with the 4 year olds.
Jillian was an observer in Ange's class – watching as the students learned about vowels with ai,ee,ou,ie sounds.  Chris dusted off the school's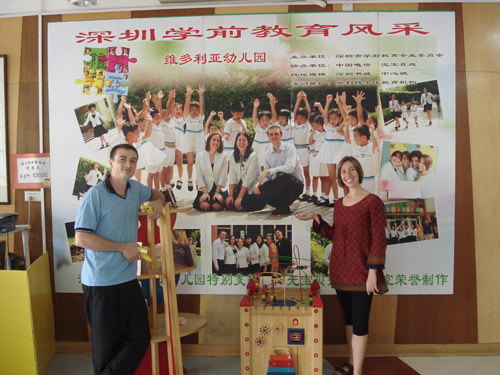 guitar for Nick's 4 and 5 year-olds and taught them "I had a Rooster", right before they went out for their playground session.

After a half day at school, went for a delicious Chinese lunch – another delicious meal in what has been a week of fantastic eating.  We were really happy that we were able to spend 5 action packed days in Shenzhen and best of all, with our great friends.
Our time in China was to last a little bit longer as our flight out of Shenzhen to Bangkok on Monday night, scheduled for 10:45 pm, was delayed, and didn't leave until 12:25 am. Upon reflecting on our time spent in China, we really had an excellent time.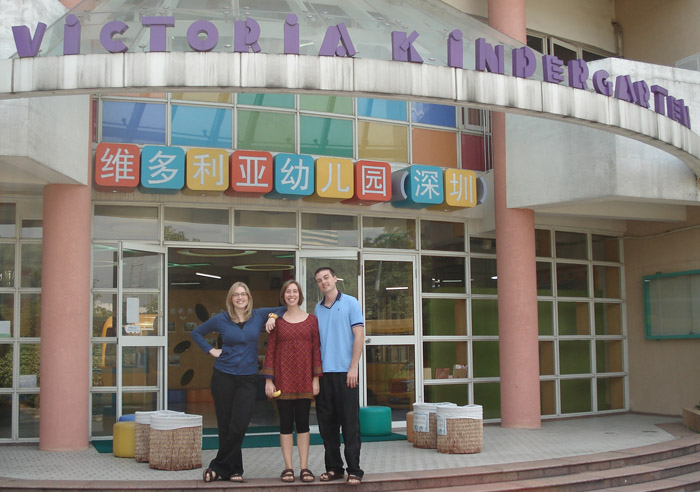 Jillian, Ange and Nick outside the front entrance of Victoria Kindergarten.
Although there was plenty of activity, and our schedule was packed to the brim with a combination of culture, excellent cuisine, pampering, and of course good company, Thailand has to be pretty good to live up to the great time we had here!

but as always... we are optimists :)